There are many questions that come up as to whether this can be a good fit for your studio.
Here are some answers to commonly asked questions about the program.
But please don't hesitate to contact us for further discussion.
1. I want my YTT program to be a reflection of my Studio. Is that still possible? Can I make changes to the curriculum?
Ashtangasana wants this to be YOUR program! We are giving you the framework, the roadmap through a 200 hour program. The minute you begin to teach the program, it is being conveyed via YOUR wisdom, experience, style. For example, your interpretation of the Yamas and Niyamas still come from your knowledge base and perspective.
You are free to adapt this program to your studio's style. We encourage this!
As this is a Yoga Alliance approved curriculum, eliminating or changing parts of the Ashtangasana Program must be approved by Ashtangasana. We have worked very hard to respect and honor the requirements by YA to develop a comprehensive curriculum that meets their standards. Making changes can jeopardize the YA qualification. We just have to make sure if you want to change how Anatomy is conveyed, that you are changing apples with apples and not reducing content or hours of study. Increasing and enhancing, obviously is encouraged!
2. What is the Schedule of the Ashtangasana Program?
The existing structure is 16 weeks, one 3 hour class and one 5 hour class per week. The 16 weeks is the amount of curriculum weeks. If you do the 16 weeks, 2 classes a week over 20 – 25 weeks, having room for a week off every few weeks, that is totally up to you! Or you can adapt the calendar in other ways to suit your needs. See #3.
3. Can I change the Schedule of the Program?
Yes. The program curriculum is designed as a 16 week program yet you can adapt this to suit your studio and community's needs.
The existing structure is 16 weeks, one 3 hour class and one 5 hour class per week. Those hours can be consolidated into an 8 hour class.
Multiple weeks of curriculum can be merged into a weekend curriculum. You can make it a longer program by having one class a week.
4. Can the Schedule of the Program be adjusted to suit a weekend, intensive or 1X week program?
Yes. You can merge the two weekly sessions into one day a week. Multiple weeks worth of sessions into full weekend once a month, or full weekend every weekend. You can also make it a longer program by meeting once a week over 32 weeks. Ashtangasana will work with you and your studio to adapt the schedule to suit your needs.
5. What Style of Yoga is the Ashtangasana Program grounded in?
It is a vinyasa style of training. The founder of the Ashtangasana program has been teaching since 1995 and has had the experience of taking classes with some of the great U.S. master teachers such as: Kathryn Budig, Ana Forest, Seane Corn, Baron Baptiste, Daren Friesen, Kino MacGregor, and many others. As much of American training is a blend of styles, this program is a reflection of this blending over 20 years of studies.
6. I teach Hot Yoga (or any other specific style), will this curriculum work for my Studio?
You will be able to integrate your style through out this program. Or you can choose to create specific modules for your studio's style. As you teach the various modules and methods, your style will express itself naturally.
7. Can I use my own Logos and Branding when promoting the Teacher Training Program?
Absolutely! This is YOUR program. You are using a curriculum but YOU are teaching it! Your studio's logos, name, brands need to be on your marketing materials. You may use Ashtangasana's name for the program, or not. We only require that you leave the Manual covers on, as they are the title page and covers to the book.
8. What is the cost to the Ashtangasana program?
The cost is $3,000 for the Marketing Manual with supporting documents, Teacher's Manual kit which has the Teacher's, Student and Asana Manuals and USB of supporting documents. It also provides you with 3 Student Manual Kits, which include the Student and Asana Manuals.
If you need 4+ manuals, you pay $250 for each manual beyond the 3rd manual needed. You cover shipping costs.
9. When I do my second program, what are my costs?
The only costs for future programs, after your first program, are the costs for the manuals ($250 each), plus shipping.
10. What is the Refund Policy?
Ashtangasana wants this to be a successful program for you and your studio. We have created a structure, process and support that will allow for success yet if you do not feel this will benefit your studio we have a very nice refund policy!
If at any point in the process you decide not to do the program, we refund everything, minus $250 plus the return of all materials.
11. Does my Studio qualify as a Yoga Alliance registered school?
The Lead Teacher of the Program or Studio owner needs to be an E-RYT.
12. What is the process for my Studio to qualify for Yoga Alliance?
Ashtangasana will help you through this process.
Your Lead Teacher for your Training needs to be an E-RYT.
On the E-RYT page, you can select My Schools. You will create a School profile and link the curriculum to Ashtangasana. You need to create and provide a sample of the certificate you will grant your students. This does incur a fee from Yoga Alliance to register your school.
13. Will my students qualify for the Yoga Alliance registry?
If you register your school with Yoga Alliance, and once they finish all requirements, you can grant them a certificate from YOUR school and they can be qualified to be registered.
14. Do I only pay $3,000 one time?
Yes, the $3,000 is the cost for you to own the curriculum and program. Only costs in the future are for Student Manual sets. Future trainings, you will need to order Student Sets for each student.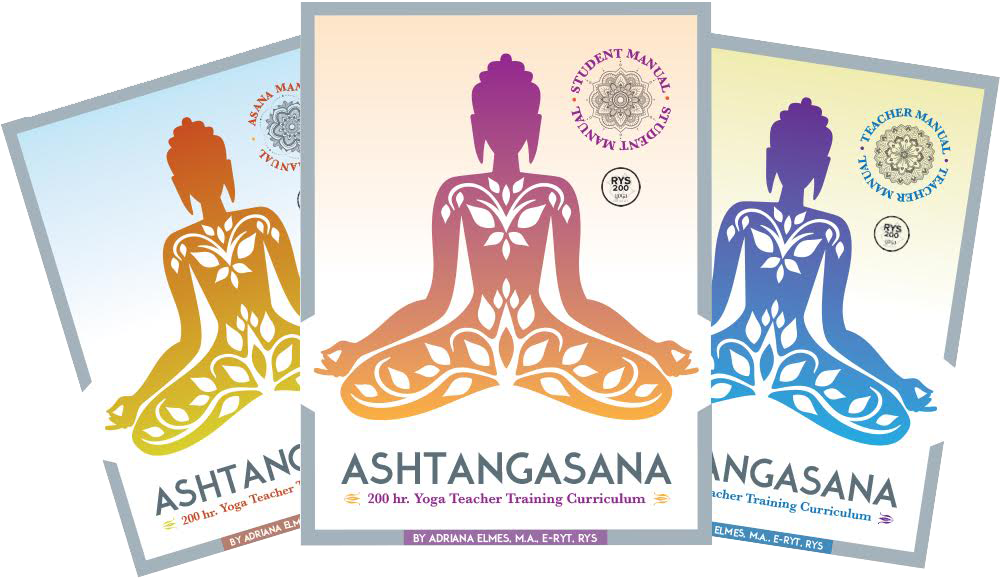 Ashtangasana's unique program offers a complete curriculum that a studio can implement immediately, as their own program, right out of "The Box"!
Our mission is to help yoga studios around the country, grow as a business and develop strong, knowledgeable instructors!
includes the student + teacher manual + marketing kit
contact us now for your full kit!
Send us a message and we will get back to you with more information.