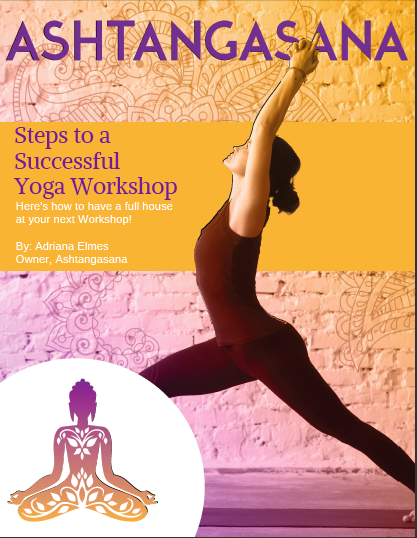 Are you ready to have a full house at your next workshop?
You may have come back from a great conference or retreat, and are now excited to share your knowledge with your students!  Workshops are wonderful ways to grow the skills of your students.  Students are also hungry for a deeper understanding of the yogic practices—they turn to us, as teachers, to educate them on these deeper levels.  For a workshop to be successful, there are many considerations to take, so that you can have a full class.  To start…
What type of workshop?
When is the best time to schedule the workshop?
What is the best way to promote the workshop?
How will the workshop be structured?
What do your students want and need?
Know your customers.  You might be excited to share new learnings after coming back from an amazing conference, but is that what your students want?  Consider what would help them in their daily lives to become more of who they are!  Are they wanting to go deeper into their practice and explore new and more challenging poses?  Do they need grounding, or do they just want to play?
What is the best time to schedule a workshop, and for how long?
Who are your customers?  Are they parents, single city folk, retired, or working full-time?  Are they dealing with a school schedule?  Do you have an outdoor-active community?
When planning, think about the time of day and day of the week for your studio's community.  In some communities, the town empties out on the weekends.  Others have a busy, hectic kid schedule on Saturday mornings.  Does the community participate in church on Sunday mornings?  These are all things to consider when choosing the best time for a workshop.  You may have to do some trial and error to determine the best time of day and which day is best.  The timing of a workshop needs to be within the flow of the community's lifestyles.
A few tried-and-true tips:
2:00 PM often works better than 1:00 PM, as the whole morning and early afternoon things can be done.
4:00 PM is better than 5:00 PM because the workshop won't encroach on dinner time.
In some areas, a mid-week evening between 6:30-9:30 PM can be very appealing.
Can you think of a workshop idea that feels meaningful to you?  What knowledge do you have that you would like to share more of with your students?  Stay tuned for the next part of this series—we will cover workshop promotion!