Have you been struggling with yoga studio customer retention? As business owners, it is so much easier to bring a new customer through the door than to keep a customer once they have made it across the threshold. It is essential to keep the customers we have. Yet, every time a customer arrives, we have to continue to sell them on why they need to keep coming back.
As business owners, we must assume the role of a Leader. Our role is two-fold: we must inspire our staff to promote and sell our studio when they are at the studio or outside the studio; we must inspire our customers in such a way that they are committed to returning regularly.
Customer Retention Analysis
On a regular basis, analyzing your numbers is essential. Do you know your customer retention rate for this year? If you are using MindBody, their customer retention report default only tracks the last few months. This is not an effective timeframe to access customer retention. You must look across the entire year.  For example: with parameters of a full calendar year, you see an 18% retention rate. If you have 1000 new customers by the end of the year, you only have 180 of those remaining. If you are losing customers every day, how can you prevent that? How can you make the customers so happy that they could never imagine going anywhere else? Every day that they walk through the door, you need to convince them to never leave.
As the initial part of this multi-faceted series on yoga studio customer retention, following are ideas to create and develop relationships with your customers.  Keep this in mind: your customers want to be transformed—mentally, physically, and spiritually. You can be their mentor through transformation. Make their transformation possible, accessible, and fun! They will keep coming back!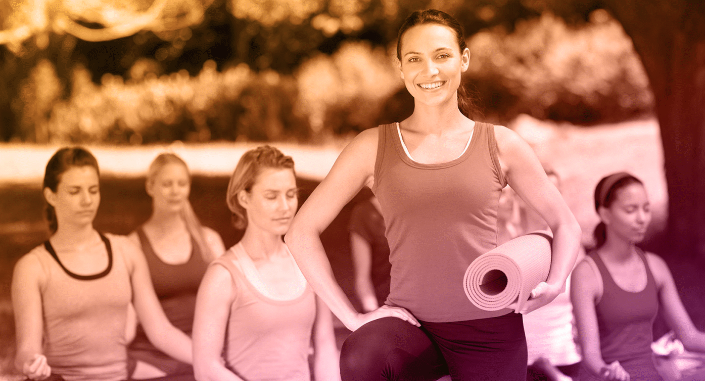 Establishing Relationships and Creating Community
The key to any business is building a strong relationship with your client. A customer that comes to your studio is looking to change something in their lives. They want to become healthier, happier, less stressed, more in shape, etc. You can play a key role in this process. If you assume this role, you become an essential and vital fixture in their lives.
Knowing your customers personally is not enough, you must also create an environment that they want to come back to; one that they find nourishing, accepting, inviting, and supportive of their personal journey. Creating a sense of community in the studio can offer customers the connection to others that they might not be able to find outside of the studio.
Tips for Relationship Building
Deep listening – be totally present for your customer.  People want to be heard.  Ask open ended questions for real understanding of what they are truly expressing.
Respond, don't react to a difficult situation or problem that they are posing.  Understand their issue or problem, and as a result, there will be real connection with your customer.  This leads to trust, which can lead to resolution and continued relationship.
Address customer concerns with a follow-up text, so they know that you have taken action.
Always have a manager or owner on site.  This has you available to address issues and concerns immediately.
Phone call students if they have not been seen in a while.  This is very effective, as they usually come back within 2-3 days.  This that you are truly vested in their journey.  You might find out that they have been sick or are struggling with something.  This opens the door to connection.
Once a month, call people who haven't been in to the studio in 30 days.  Reach out with something similar to: "We are reaching out to check in and see how you are.  Haven't seen you in a while.  Do you have an injury or have you been sick?  Do you need to put your membership on hold?" This will show that you truly care about your customers.
If a student's class package is close to expiring, send an email to see how things are going.  Often this will lead to a renewal.
Have an app that sends push notifications to alert users of special events.
Send personal texts for birthdays.
Post happy birthday messages on Facebook.  Once a month, post all birthdays of instructors and customers.  Be sure to tag those teachers and customers, as it will then be posted on their feeds too.
Each month, post hire anniversaries on social media.  This is a nice way to say thank you!
Whether you are a yoga studio owner or jack of another trade, what ideas do you have for retaining customers?  What feels authentic to you when cultivating relationships with those whom your business serves?